Digital Literature Holder Displays with Locking Bracket
---
Digital Literature Displays — Publications Holder & Built-in Multi-Media Player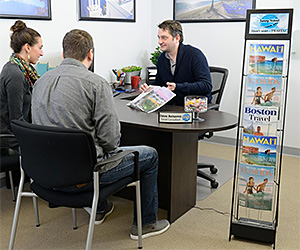 Want to make your in-store promotional publications fly off the racks faster? Create a buzz around the products you sell with a media player for video advertisements incorporated into your brochure stand! Our digital literature holder displays are all-in-one catalog stands with incorporated non-touchscreen technology. Don't rely on staid marketing plans and conventional rack dispensers to sell your brand! Take your marketing to the next level. Invest in digital literature holder displays that do some of the work of marketing for you. Engage customers faster with powerful branded content targeted to their needs! Who needs a half-time spot at the Superbowl when you can advertise in-store using magazine holders with built-in advertising platforms. Dispense catalogs while streaming custom video presentations and slideshows. Get visitors excited about featured merchandise. Tell memorable brand stories. Our magazine holders are perfect for airports, trade shows, and hotel lobbies. They also work well in restaurants, retail stores, corporate parks and other high-traffic commercial settings.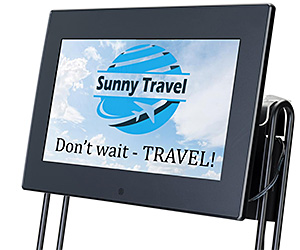 Our digital literature holder displays are tiered with 10 pockets for magazines. These racks are sturdy, with steel, metal and acrylic construction. Standing 57"h, this brochure rack holds a lot of material but takes up only a small footprint. Each compartment measures 9.3"w x 13"h to hold a standard 8.5" x 11" catalog. Our magazine holders are available in neutral black and silver to complement any decor. Zip ties keep cable cords from cluttering the presentation area and prevent customers from tripping. Your stand won't topple over, either. Worried about your expensive devices disappearing? Our flatscreens are locked to the stand with security screws. Each of the rack frames break down easily into a 54"w black canvas travel bag. Best of all, our multimedia stands are packed with powerful software to enable video and audio playback.
What are some of the features of these magazine holders with non-touch panel technology?
Digital literature holder displays come with a 10.1" LCD screen for rolling jpg photos, MP3 audio, and video recordings. The tempered glass panel has 1024x600 resolution for a clear picture and built-in speakers for crisp sound and recording.
Easy to learn and use plug-and-play technology is enabled via a Micro HDMI port and USB for effortless streaming of content across a variety of multimedia platforms.You can even set up programs ahead of time with auto start and adjust settings on the monitor.
Remote control manages built-in apps, screen settings and more, so video and audio presentations are played on the device from a distance while the retailer or business person goes about their day.
Most people get their news and consumer information online, so your marketing plan should reflect consumer preferences. To this end, business and retail folks can and should find ways to incorporate periodical racks with a multi-media player for in-store advertising. Sending customers home with printed materials after they have viewed your brand story or a presentation converts shoppers into buyers.
Shop MagazineRockShop.com for brochure racks with plug-and-play technology for a dynamic advertising experience right on your store floor. Bring more traffic into your showroom, build brand reach, and cement your company's mission in the imaginations of your clients. Mixing conventional catalog racks with the racks you see here that incorporate multimedia players is a way to distribute information and highlight products throughout your store. Step up your marketing and sales game today with moving content that packs a visual and auditory punch!