Plastic Magazine Racks | Wall Mounting or Hanging Holders
---
Plastic Magazine Racks - Clear Wall Mounted Holders & Literature Displays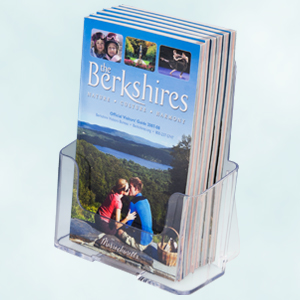 Do you need plastic magazine racks for your business, retail, trade show or conference environments? These pocketed, acrylic literature displays are ideal for any waiting room, lobby or company setting. Because we know your floor space is valuable real estate in any location, we offer models that can be simply mounted on the wall or placed on a countertop or tabletop. The acrylic design is perfect for high-traffic areas as it is lightweight for portability but also durable and cost effective! The plastic magazine racks, also known as literature displays, come in a variety of styles with varying number of pockets to make the most of your storage and presentation space. In addition to providing slots for all your brochures, flyers, leaflets, newspapers and magazines, the wall mounted holders can be purchased with poster holders for advertising purposes.
What different styles of literature displays are available for purchase?
Choose from plastic magazine racks that easily mount on the wall to save counter and floor space.
We carry racks with 1, 4, 6, 8, 9, 12, 18, 24 or 48 pockets. Many of the holders can be adjusted to fit larger printed materials therefore cutting down on the amount of pockets.
We offer outdoor models that have easy close and open lids to protect literature from the elements while allowing guests or customers to take pamphlets from any setting!
Aside from providing storage and organization for a variety of printed items, we have boards that include pockets and poster frames allowing you unique advertising opportunity.
If you prefer to avoid wall mounted storage solutions, we offer single pocket stands that can be used on counters or desks.
Outfitting your business with the right literature displays can not only keep your office or waiting room organized, it can also promote sales and allow for additional advertising opportunities. By purchasing a plastic rack, you not only make a budget conscious decision but also ensure that your holder can withstand high-traffic areas like trade shows or outdoor settings. Choose a display rack that can be wall mounted with all the hardware included in your order or one that can be placed on a table, desk or booth. Having the ability to adjust the pockets on your holder ensures that you can display all your printed materials whether they are small like brochures or larger items like newspapers and magazines. Order online today from MagazineRackShop.com and receive same-day shipping on most in-stock items. In addition, enjoy wholesale prices from our online warehouse and register with us for future orders!