Rotating Magazine Rack with Full & Half View Pockets
---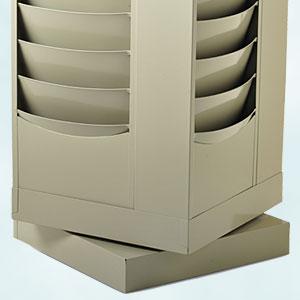 Rotating Magazine Rack - Tiered Retail Stands
How many different designs do these rotating magazine rack fixtures come in? This revolving publication with a spinning base displays periodicals in retail stores. This rotating magazine rack with unobstructed views is the perfect dispenser for promotional booklets in small offices and showrooms due to the smaller footprint. Each of these floor and counter mounted spinning stations allows customers to view materials from every angle. All manner of pamphlets or periodicals can be stored in this freestanding rotating magazine rack for office. Neatly arrange literature in wooden, wire, metal, or acrylic stands. This spinning publications carousel, also known as a brochure holder, presents materials in a manner where they can be easily accessed. This rotating metal magazine rack that is an affordable wooden display comes in high or low price points to suit every budget.
What types of literature carousel are available here at this website?
Rotating magazine rack comes in metal, wire, or wood finish.
Metal literature display is finished in gray, tan, putty, or black.
Wire pamphlet system are sturdy, with tiers for showcasing publications.
Adjustable magazine holder comes in tons of pocket varieties from 4, to 80.
Periodical systems are floor-standing or countertop mounted.
Each of these brochure holders is the perfect fixture for storefronts, offices and retail shops with limited space. These top quality revolving wire stands are some of the least expensive on the market, especially when purchased in bulk. Shop this literature display with enough configuration and finishes to please any retailer and office supplies buyer. Contents can be viewed easily by turning the pedestal, so none of your promotional materials or items for sale are missed. Tiered pamphlet holders such as this literature carousel work virtually anywhere to dispense reading material for purposes of brand reinforcement. The spinning stands also distribute catalog-sized publications in the industries of beauty, fashion, mechanics, hobbies etc., for sale in book stores and cafes.
This line of literature displays boasts an impressive array of racks for any style showroom or reception area. Place these organizational fixtures in the waiting area of a professional office or hospital so guests are entertained while they wait for service. This carousel collection is the perfect accessory in a law, real estate, or travel office. Favorite titles can be found with very little effort due to the pocket design. This rack is available in red mahogany, light or medium oak, or an array of metal finishes from black, putty, off white, and gray; acrylic dividers always lend contemporary flair to the decor. These brochure holders in single or multiple pockets are adjustable with enclosed pegs. This periodical holder can be viewed by several people at the same time. This revolving magazine rack, like a spinning kiosk, is as beautiful as it is affordable. Buy this rotating magazine stand for promotional periodicals or literature for sale and enjoy its blend of style and durability for years to come.