Metal Magazine Displays | Publication Racks and Floor Standing Holders
---
Metal Magazine Displays - Stands & Holders for Literature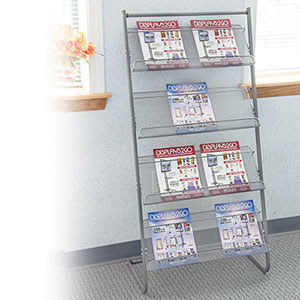 When shopping for metal magazine displays, it is important to consider the space and setting in which you'll be displaying literature and publications. Because wall space is valuable in most stores for shelving and cabinets, a floor standing holder can be the perfect solution to your display needs. Each metal magazine display, also known as standing literature racks, is made to hold brochures, flyers, leaflets and newspapers as well. The durable wire construction ensures stable and sturdy use even in high traffic areas. The metal magazine racks are available in several different styles and options to fit any environment from classic to contemporary settings. The floor standing holders are the perfect addition to any waiting room, lobby, office, conference room setting and are also perfect for retail locations.
What different kinds of standing literature racks are available?
We have several different metal magazine displays that can match or blend with any existing décor - choose from finishes ranging from silver, black, wood grain or durable clear acrylic.
One of our most popular lines, the Forte series, feature banner poles in addition to the literature racks and holders. The metal and acrylic pockets are designed for ultra-durability and ease of use. The ability of the Forte series stands to also hold graphics and banners are a big draw for multi-media advertising needs.
Our Wave series is also extremely popular because of their unique, curved designs. Choose from holders that are crafted out of durable metal but are styled to look modern and eye-catching.
Choose from models with a varying number of pockets to ensure that all your publications and printed material can be fully sorted and organized.
Outfitting your office or store with freestanding literature holders is the perfect way to keep clutter off of tables and counters. Organize reading material in waiting rooms to ensure that the space always looks tidy, presentable and accommodating for new customers or guests. In addition, the publication racks can be used for storing files or folders behind counters and desks. The magazine racks are designed to be placed directly on the floor so they save wall space and can be moved with ease for changing décor or to put in more prominent focus for customers. For even easier moving, some of the displays are fitted with wheels to make portability possible. For the stands without wheels, all the bases are weighted to provide strong support for taller models. Order for all your literature organization and storage needs today at wholesale prices to make the most of your budget and company resources!