Magazine & Poster Stands for Signs & Brochures
---
Magazine Poster Stands - Large-Format Graphic Holders w/ Pockets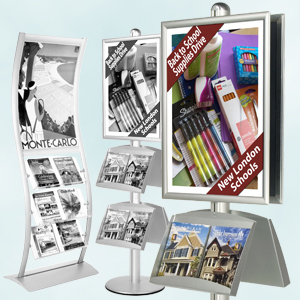 What types of magazine & poster stands for organizing and dispensing publications are for sale at this website? This dual-purpose catalog holder and advertising display supports a full-size graphic with smaller pockets underneath for trifolds and catalogs. Each of these poster frames for business marketing is designed for equal parts function and style. These advertising mounts come in an array of designs with a swing or snap-front, and front, side, or top-loading capability. These magazine & poster stands are great for stores with restricted wall and counter space. Floor standing sign mounts underscore brand with a large sign, and encourage customers to "take one" with smaller brochure pockets. Available in myriad designs, finishes, and pocket configurations, many of these space-saving magazine & poster stands are double-sided, for twice the messaging! Some models are super-tall (eight feet!), and can be seen from a great distance. Reinforce brand, sell wares and services, and build a professional image for your company with sturdy, well-crafted sign holders. Prints can be beautifully displayed in these poster frames with pockets underneath for give-away literature that connects customers to your brand long after they go home. Place a fixture in a storefront, hotel lobby, automobile showroom, airport, bank, hospital waiting room, office reception area, hospital receiving area, sports arena, convention center, museum, bank, or theater for maximum visibility in high-traffic areas.
What are some striking features of these poster frames?
Floor mounted magazine & poster stands come in myriad designs, straight or waved; w/ pole, or pedestal base, in aluminum and metal construction.
Sign displays have black, brushed silver, or chrome finishes w/ acrylic pockets, and their modern design and high functionality results in eye-catching presentation fixtures.
Marketing tools like a quick change sign frame load from the top, side, or bottom, using clips, or snap-open technology for easy updates.
Special details make these display racks the cream of the crop for this type of fixture, from a curved lip to keep publications from slipping out; height and pocket adjustability with brackets and acrylic pegs (some stands rise to 8' tall!); rounded corners for safety and aesthetics (no sharp edges to hurt people or scratch walls); no-glare lens cover to protect graphic from dust and debris; and customizable banner poles from the FORTE collection. These fixtures are shipped knocked down to save on shipping costs, but they are easy to assemble with the clear instructions enclosed. Great for any advertising campaign, these holders store flyers, newsletters, and catalogs and many times varied sizes can be displayed together due to adjustable dividers and pegs!
Choose from a plethora of poster frames including picture holders and print displays in aluminum, wood, acrylic, plastic, and powder coated steel in black, brushed silver, or chrome, straight pedestals or wave designs with green-edged acrylic, double sided banner poles, and more. Many of these advertising tools, poster stands can be same-day shipped when in stock! A variety of brochure, newsletter, and catalog sizes can fit into one rack. Large-format advertising is boosted exponentially with acrylic pocket attachments within the same unit for distributing information cards. A PVC lens reduces glare and protects frame contents. Stands ship unassembled in protective cases, with hardware and clear, easy-to-follow instructions.