Cardboard Magazine Display | Cheap Floor Stand for Literature
Sorry, nothing is currently available here. More may be back in stock soon! For more details or help finding alternatives please contact us via phone or live chat during operating hours.
---
Cardboard Display for Magazines - Economical Racks for Organizing Literature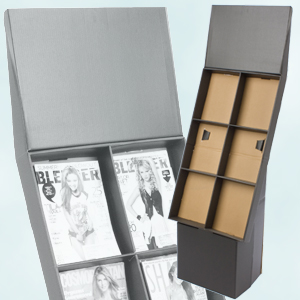 Need a simple and cost effective merchandiser for literature? The cardboard magazine display makes a great point of purchase fixture for any environment. The literature floor stand is available in multiple different colors to match any outlet's need. The fixture can be assembled in minutes with its lightweight construction. The cardboard magazine display is great for placement near checkouts as it encourages impulse sales with its bright finish. With its economical fabrication, the holder is a great option for limited budgets or retail chains in need of a large quantity of fixtures. The rack is ideal for merchandising bestselling books and will accommodate reading material up to 9" x 11" in size. Each fixture weighs 2.5 lbs., making it easy to move to a new location, whether it's across the room or to an exhibition. The cardboard magazine display, also called the corrugated catalog stand, is excellent for trade shows with its portability, disassembled or not. With its basic design and bright coloring, the rack can be used in a variety of settings.
Where can this corrugated catalog stand be used?
The lightweight cardboard magazine display is great for retail stores such as book shops. The holder can showcase novels, catalogs and brochures as impulse items or just as a normal shop fixture. The freestanding magazine display makes its contents "pop" and will attract customers to its merchandise. Whether it's used as a point of purchase fixture or in bulk as shelving, the floor stand can hold a variety of different reading materials.
The corrugated catalog stand will also fit right in at supermarkets. Its compact structure allows it to be placed at the end of aisles or near the registers. Grocery stores with book departments can add additional space by placing a literature holder in the area for an additional (6) spaces for merchandise. Supermarkets can also benefit from using magazine displays as racks to keep impulse items.
As mentioned before, the corrugated floor stand's portability makes it an excellent choice for trade shows, exhibitions and conferences. With its economical construction, the corrugated catalog stand is cheap, lightweight and easy to assemble, making it easy to take to a public event. The cardboard magazine holder clearly shows the entire front cover of literature, meaning passersby will see as much as possible of each cover.
The corrugated display has many uses, from point of purchase fixture to portable event holder. The cardboard magazine holder features a removable header for custom signage and messaging. Signs can be attached with adhesives (not included) to create a branded rack. The eye-catching book display also features 3" deep pockets to hold a number of catalogs at once and reduce the need to restock. These fixtures will be able to fill multiple roles in the store or out at an event. Whether it's selling literature as an impulse item or dispensing brochures at a trade show, the display will catch the attention of passersby.