Plastic and Acrylic Magazine Display Stands for Catalogs & Periodicals
---
Plastic Magazine Stands - Literature Storage & Display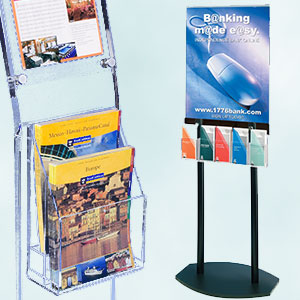 Does your business use acrylic magazine displays for merchandising? These economical accessories serve many different purposes, from keeping reading material organized and tidy in waiting rooms to creating high visibility marketing stations in public areas or information holders in libraries or offices. Commercial-grade plastic magazine stands come in a wide variety of styles, sizes and configurations that can be used to meet the different needs of clients, customers and passersby alike. From bookcase-style rolling racks to freestanding kiosks with built-in poster holders, this type of display fixture can organize displays or function as a selling tool. Multi-shelf or pocket acrylic magazine displays, also known as plastic magazine stands, are one of the most useful accessories any business can have.
What are the different styles of acrylic magazine displays?
Plastic magazine stands with shelves are an economical alternative to traditional wood bookcases. This type of furniture is available with or without wheels, and features multiple racks or shelves for displaying everything from periodicals and books to collections of pamphlets or sales literature. Durable polystyrene allows the acrylic magazine racks to withstand heavy usage, making them ideal accessories for lobbies, libraries, offices, conference rooms and trade shows.
Clear plastic literature holders with integrated sign displays and configurable pamphlet or brochure pockets are perfect for businesses that utilize multiple marketing methods. Branded posters or signage used in a freestanding display is a sure-fire way to attract customer attention, and take-away pamphlets or catalogs help advertise merchandise. Sales flyers, new product announcements, service information and more are ideal for use in this type of clear plastic holder that ensures high visibility of contents. Silver or black finish versions of these multi-pocket floor standing fixtures offer more of a "furniture" feel, making them ideal for office or concourse use. Portable styles with easy rolling caster wheels can be moved easily to follow customer traffic pattern, as wayfinding stations or as trade show booth accessories.
Open-face literature or magazine displays make excellent retail fixtures in addition to office, lobby or event use. Newspapers, sales circulars, product or service pamphlets and other advertisements stand out easily in this style holder. Clear plastic pockets allow full visibility, encouraging customers to browse and take away materials as desired.
Our neutral finish or clear plastic literature display racks are lightweight, economical alternatives to metal or wooden fixtures that offer high visibility storage and organization at an affordable cost. Commercial grade furniture that allows easy changes to pocket configurations can accommodate many different material sizes, from simple trifold pamphlets to full size flyers, catalogs, periodicals or even tabloids.