Wooden Magazine Stand | Classic Freestanding Literature Displays
---
Wood Literature Display Furniture - Floor Mount Wooden Laminate Catalog Stands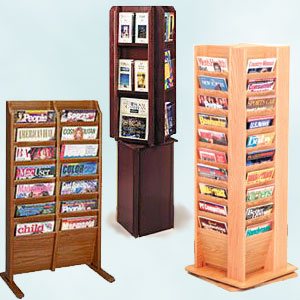 Looking for organized, attractive display fixtures for reading material of any kind? Multi-tier wooden magazine stand styles come in sizes, designs and finishes to match any display requirements or décor choices. Available in durable solid wood or economical veneered engineered woods, freestanding holders with cascading pockets are a superior choice for use in library, home and office environments alike. Even the most contemporary wooden magazine stands lend a certain air of tradition to any location due to their rich finish color and imposing size and design. Laminated finish is also available as a durable and affordable alternative. The choice of cascading or open-face shelving often hinges on visibility and space requirements. Wooden magazine stands, frequently called wood literature furniture, also offer a choice of shelf-style tiers or sized pockets to accommodate the widest variety of reading material sizes, from simple tri-fold pamphlets to full-size tabloid newspapers. In addition, certain commercial styles are designed to feature marketing or advertising posters to further attract passersby to collateral displays.
What are the most common styles of wood literature furniture?
The open-face wooden magazine display rack has long been a standard feature of school, public and organizational libraries. Footed rack-style holders in single-sided or double-sided configurations are perfect for keeping periodicals organized. Alternatively, many commercial businesses choose this type of rack for lobby displays of take-away marketing collateral, as well as to hold reading material in waiting rooms. Open tier wooden literature furniture designs are best for content visibility, while cascading pockets offer maximum space-saving.
Revolving pedestal-style wooden literature displays with clear acrylic fronts are perfect choices for high traffic public areas. High end bookstores, upscale lobbies and professional offices frequently use this type of traditional fixture to provide clients with the maximum number of choices in minimal space. The contemporary rotating design is balanced by rich traditional finish colors. Depending on the pocket configuration, these freestanding racks can support everything from brochures to catalogs.
Newspaper kiosks are designed to draw attention to take-away tabloids. Multi-shelf wheeled fixtures with built-in headers for visibility in deep finish shades are ideal for high-end retail establishments, lobbies, atria and even public concourses. This type of wood literature display rack is most often made from lightweight MDF, a type of laminate that offers the look of solid wood without the expense or added weight. Open-front tabloid or circular kiosks are ideal for use in retail environments, at trade shows, in hallways, entries or lobbies or simply on sales floors standing close by advertised merchandise.
Integrated marketing campaigns frequently combine large-size graphic advertising with catalog-style merchandisers as well as take-away brochures. Freestanding wood literature furniture easily showcases advertisements or posters as well as tri-folds, flyers and other collateral. The imposing size of these fixtures makes them ideal for use in high traffic areas with heavy volume where visibility is key. Choosing larger floorstanding alternatives to countertop or wall mount fixtures allows companies to increase customer attention as needed, as well as to match decor and decoration.
In addition to "traditional" freestanding library-style magazine display stands, we also offer a wide variety of specialty designs, from child-sized bookracks and cubbies to sorter-style organizers and wall-standing multi-brochure showcases. Curved architectural construction displays increase visibility while maximizing space use, while folding or pop-up furniture is ideal for use at off-site events or in locations where mobility is required. With finishes including basic black, neutral maple, contemporary birch, elegant mahogany and light, medium and dark oak, it is incredibly easy to find the configurations, design, style and color to match any professional, commercial, institutional or even residential need.