Magazine Racks for Sale | Acrylic, Wood & Wire Literature Display Racks & Stands
Magazine Display Racks - Floor, Counter and Wall-Mount Literature Holders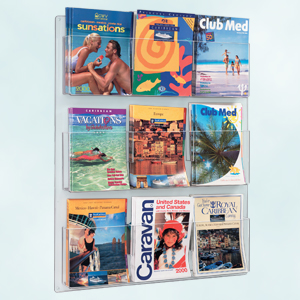 Want to make an impression with quality brochure displays? Don't miss this go-to website for that, and more, when you visit MagazineRackShop.com for affordable literature stands of flawless design with quick shipping! Shop business and retail stands for literature, shipped same-day from our fully stocked warehouse! While the company being discussed is #1 in service and quality for displays, it also strives to provide myriad choices including floor-standing, multi-pocket, wall-mounted, and basic to high-end. These magazine racks help boost business when displayed in style using a functional kiosk, and they are also helpful in the home to organize a living space. These periodical stands, also known as office furniture for business offer a neat and organized place to both store and display various types of literature. Our selection of magazine racks does not only include this type of storage, either. We also have numerous racks for periodicals, brochures, even books!
What are these magazine racks used for in particular?
Organize your shelter periodical collection in the home and keep things!
Promote your goods and services in the workplace or at tradeshows to boost sales!
Place these stands in lobbies, foyers, showrooms, storefronts, and offices!
Available in myriad materials, configurations, and styles to suit every need!
These leaflet stands sorted at this website to make it easy to find the style and configuration your store or business needs! Choose to shop for brochure holders by the number of pockets, the style or placement of the racks (wallmount, countertop, floorstanding, or counter-to-wall), and we've even included a section where you can shop by specific popular features of magazine racks. The shop by feature option includes a fixture collection that holds paper posters, rotating literature displays, portable holders, and upscale & contemporary office furniture that keeps a room clutter-free! Tweet out how much you love these supplies for paper publications!
What configurations are these supplies available in?
Choose from acrylic, wood and metal options depending on budget
Wall-mount models are great for smaller offices or storefronts
Floor standing fixtures free up table and wall space
Countertop mounts set by a register sell merchandise
Some of our displays feature poster or sign frames. This is a great bonus for businesses! A rack for a periodical with sign or poster frames really counts as two displays in one! The poster frame acts as "bait", grabbing the attention of your target audience. Once your customer has approached the fixture showcasing your pamphlets, he or she will find supporting literature. These types of "combination" rack system for a magazine are great for banks, travel agencies, grocery stores and more. Other featured office supplies include portable storage fixtures. Portable brochure stands are designed for businesses that often travel to trade shows, conventions, job fairs or other "off site" events. Our wide selection of pamphlet holders for a tradeshow ensures that you will find the right periodical stand for your business' needs. Most of our portable stands include their own carrying bag or case, and many even weigh less than 10 pounds!
This website is proud to offer SAME DAY shipping on most in-stock orders placed before 2pm EST. We keep most of our literature stands in stock in our huge warehouse, so they are ready to ship when you need them, not when it is convenient for the vendor. We also offer many shipping options. We are proud to offer a LIVE CHAT feature. We live in the day and age of technology, and sometimes it just is not convenient or feasible to either call a customer service representative or email your question and wait days for a response (of course, these are both available options, in addition to our LIVE CHAT feature). Live customer service representatives are ready to answer your questions immediately, Monday through Friday 9am to 5pm, EST. We offer a secure checkout and accept all major credit cards. After your first experience with our site, we're sure you'll come back time and again for all your fixtures! Between floor-standing, multi-width, and upscale contemporary magazine holders, we have it all!
This trusted supplier of top notch literature stands and display systems knows that finding the perfect brochure holders is your priority when visiting our site. We have taken careful steps to ensure that your shopping experience is as smooth and efficient as possible. These leaflet holders come in all shapes, sizes and colors and it can be confusing to find the right one for you. By using our convenient "Shop By" categories, you will see that finding the perfect brochure displays do not have to be a chore. Whether you are looking for office furniture that has a single-pocket fixed-width, rotating, portable, countertop only, wall mount only, or any other styles, we have the perfect selection for you! And, we have done the hard work for you by sorting the stands accordingly! At this website customers quickly locate categories of literature racks and leaflet stands that have over 50 products in them, leaving you to click through pages and quickly locate the desired merchandise. We have accurately and efficiently separated fixtures for a periodicals collection into the appropriate (and appropriately-sized) categories, including floor-standing only, wall-mount, multi-pocket, single-pocket-only, countertop only racks for a periodical system, upscale contemporary literature holders, rack with poster frames, fixed-width multi-pocket, adjustable-width multiple pockets, rotating stands, portable, single pocket fixed-width and more. We want you to find what you're looking for with ease, place your brochure holders order, and be happy to come back to our site for your future display. Find hundreds of literature display samplings featuring most any width multi or single pockets. A literature display is a beautiful thing (from this website.)
Explore the site directory to view our complete selection of styles.